Swap Meet: Fundraising Ideas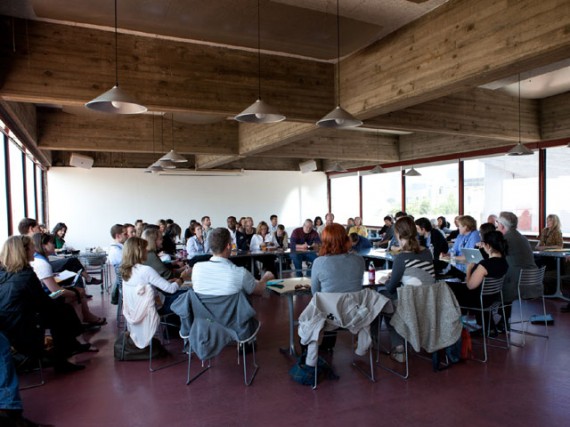 An open opportunity to meet and exchange particularly successful, unusual, or inventive fundraising strategies. Bring an example of a project or be inspired by others.
Led by Tod Lippy, Esopus.
The following is a creative list of potential fundraising methods, as discussed in this session.
Art Yard Sale – an organizational yard sale of donated used art supplies, from sewing machines to magazines.
Direct mail fundraising

Put in every reason you can why your organization needs money
Add a final line "PS If you give us $100 we'll give you XXX."  Many of the attendants noted how surprised they were by campaigns where they solicited specific amounts of money.  Offer something in exchange for the donation.  The incentive, whatever it is, isn't the point, but it does seem to spur people to donate.
Print auto signatures in blue, or hand sign if you can—add a personal note when possible.
Add your signature above the return address line on the envelope.
Use a postage stamp instead of machine postage.
Tell a personal story rather than including lists in your solicitation.
Include a post-it note or handwritten note.

Annual Art Sale Fundraiser—artworks for sale for $500 or less with artists receiving a portion of sales.
Dance-a-thon with prizes donated from local businesses—someone suggested actions from artists, such as winning a series of "love letters" sent from artists.
Visual AIDS Big Deal Sale—artworks for sale for $165 each.
Donation box in the space
Esopus has a last line in their online store asking if people would like to round up and donate the difference, or make an additional donation.
Auctions—Headlands Center for the Arts asked people to put up their paddles in the middle of the auction to donate $100.
Goal-oriented fundraising: We are going to raise XXX to do XXX.
Mgive.com, a mobile giving foundation creates short text codes to donate $ via text messaging.  You pay a fee—someone suggested that it didn't make sense for events that raise less than $50K.
One person noted that some events simply aren't worth the time investment and that nonprofits typically undervalue the time that goes into planning.  A larger question in the field—when do you have the confidence to cultivate larger donors as opposed to organizing auctions?
Target a select group who have the capacity to give and have dinner with another friend of the organization (either a nice restaurant or better yet, someone's home). Gather them to ask for advice about how to generate the money needed—this is relationship building. Follow up with them about how you followed their advice.
Events aren't just about asking for money in the short-term but about investing in the organization.
One organization sent out a letter about a non-event: "We aren't having a spring event, please send XX amount of money."
Cultivate the courage to ask a repeat donor for an increased amount—worse case scenario, they will only say no.
Art in General does two trips per year—they recently went to Cuba—and they make money from coordinating the trip, but they also bring in new people, such as two new board members on the last trip.  Other people on the trip come back to the organization and they bring new people with them too.  Key is to find a trip where people will have an opportunity they wouldn't otherwise have access to.
Sell naming opportunities within the space—Cabinet does anagrams of donors names, someone mentioned how larger institutions have named bathrooms.
One organization hosts an event where donors have their portrait taken by a well-known photographer.  These portraits are installed in the space for an event—it appeals to a sense of vanity and the portrait sitters bring their own crowds.
Establish an award or honor someone at an event—this helps sell tickets.
Another organization randomly bestows "Outsider Awards" to demonstrate appreciation for unrecognized community members.
Split fundraising efforts with another organization—partner with a local social organization to benefit community engagement.
SoEx's Monster Drawing Rally: artists draw in situ and the works are sold on the spot for a low price, hundreds attend.
Have alcohol donated and "sell" drinks through suggested donations.
Ask artists to come to a "donor ask" meeting or to donate a studio visit with a potential donor to build personal relationships.