Nomadic Programming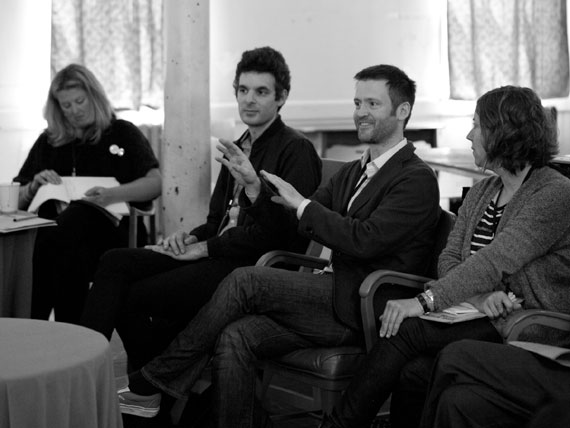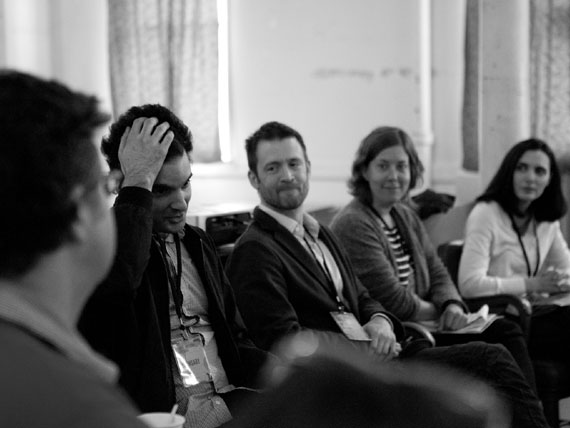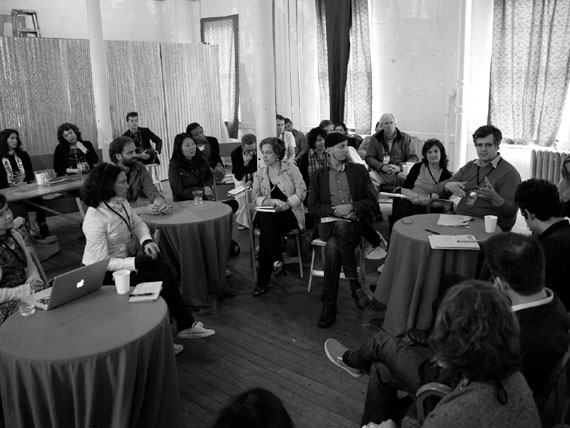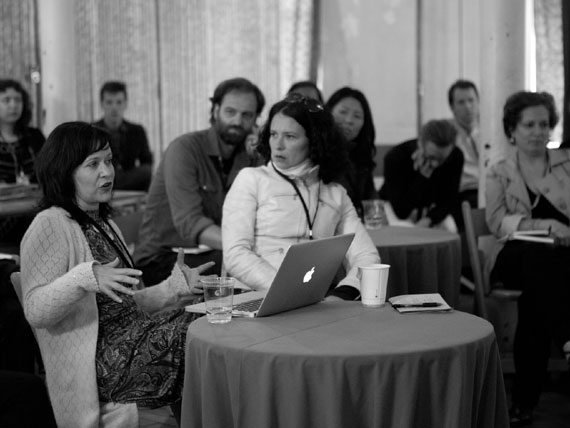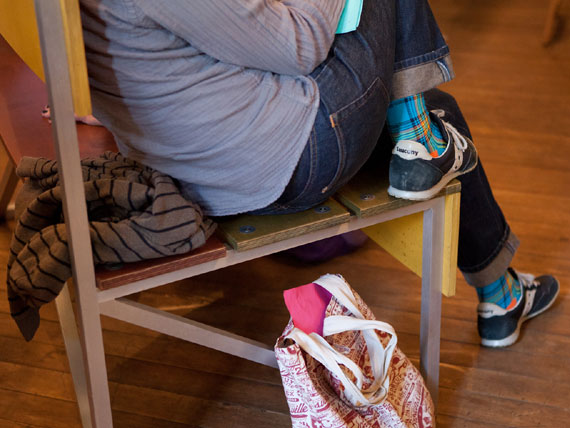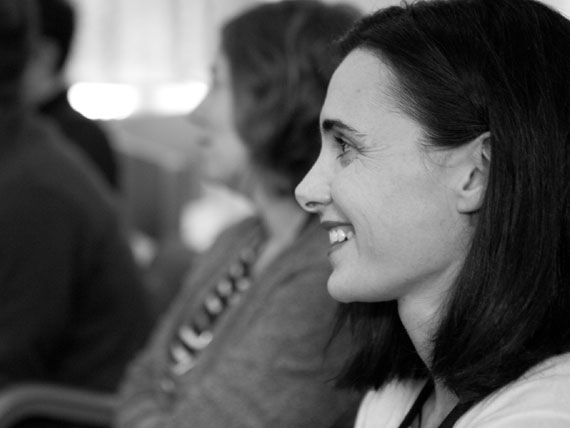 Aurora Picture Show, Fillip, Machine Project, and Southern Exposure reflect on their nomadic nature in this discussion session. Each organization has a home-base, but also present work within other art venues, at public locations, and in other cities and countries. How does creating and presenting programming in a variety of contexts re-define our approach to curating? Join us for a think-tank style discussion to consider the nomadic program model and its potential.
Presented by Mark Allen, Courtney Fink, Delicia Harvey, and Jeff Khonsary.
Courtney Fink presented Southern Exposure (SoEx):
Became nomadic for three years as a way to restructure/organize—strictly programmed in public locations around the Bay Area, with an emphasis on the Mission District of San Francisco, and with a storefront office space that served as headquarters.  Programming was driven by artists identifying spaces they wanted to work in.
Delicia Harvey presented Aurora Picture Show:
Originally established in the domestic setting of the founder, also a former church, programming has been nomadic since 2009.
Mark Allen presented Machine Project:
Identifies as an artist collective or confederacy that goes to other places to do something.
Thinks of nomadism as a form of trading sites
Jeff Khonsary presented Fillip:
Explained that Fillip was initially nomadic by necessity—noting that many of the founders were working on the publication on the side of their day jobs and that there simply wasn't money for dedicated office space.
SoEx: Being nomadic creates agility out of necessity, out of growth.
Fillip: Thinking in terms of site-specific curation—if you are commissioning a work, it is good to go back to ideas of site-specificity.  (This was in response to a comment about considering the specifics of the location.)
Someone asked about how the organization involves people in nomadic programs.
SoEx: You can't always plan who you are going to encounter.  There is an element of the unknown that you have to be O.K. with.  People don't always get it.
Someone asked how regranting plays into nomadism–is the role of regranting just to administer or does it tie into the nomadic programming?
SoEx: We have started to convene some of the groups with shared interests, such as with the Art Publishing Fair last year.
Aurora Picture Show: We also do regranting and we felt it was a conflict of interest to grant and present the same work.
Project Row Houses: What are the different dynamics?  What does it take to be dynamic?
Machine Project: The biggest challenge is how to respond to the different people involved.  It is an incredibly rich way of working because there is a chain of involvement, but his also makes authorship complex.  The role of documentation, for example, shifts radically when you are outside of your space—you have to be very conscious about how you construct the documentation.
SoEx: Five out of ten times our work in public space isn't properly attributed to us.
Creative Time: The line between artist and non-profit cultural production is extremely tenuous.  How do we as spaces rethink our role in cultural production?
Machine Project: References the writing of Julie Ault—the role of art spaces is to continually rethink the role of art spaces.
Someone asks how does an organization prepare to go nomadic?  How do you manage public relations and donors?
SoEx: We used it as creative inspiration and nothing could have been better for us.  Our funding hasn't changed at all—we talk about our programming in terms of an expanded field.  It is more expensive to work nomadically, I think, and we could probably be smarter about our partnerships.  But because we were positive about it, our audience grew.
Aurora Picture Show: Ours doubled.
Fillip: Funders like public projects, but they only like the projects they like.  It really depends on what you are doing.  There is a self-censorship that happens—all organizations have to do more radically experiments like nomadism.  Don't get stymied in the expectation that you have to stick to your existing model.  During the Olympics we did a project along Carol Street.  The call from the city was to do a project with light projections.  A group of us banded together—ten organizations—and basically rejected the city's request and forced the city to shift their expectations.
MOCADA: Does outdoor work take away from organizational prestige?  Further went on to talk about a recent off-site project in an at-risk community (housing projects) that involved partnering with community members to realize a music concert—while the initial effort seemed risky, and certainly dangerous at times literally, the ultimate result was that the community members enjoyed the work and it felt meaningful.
Machine Project: There is something amazing about going someplace and figuring out how to do the whole thing.  It is a great learning experience.
Project Row Houses: Thinking in terms of short-term versus long-term involvement.  Is it possible that there could be a long term impact?  There are communities who don't have the infrastructure to benefit from the long-term impact.
SoEx: You just have to be willing to figure everything out from scratch.  Pragmatically, there is only so much you can really do.
Joel Wachs, the Andy Warhol Foundation for Visual Arts: But you also inspire others to action.  You are role models in a way and sometimes you can't even imagine the outcome.