Sustainability for Executive Directors, Sessions I & II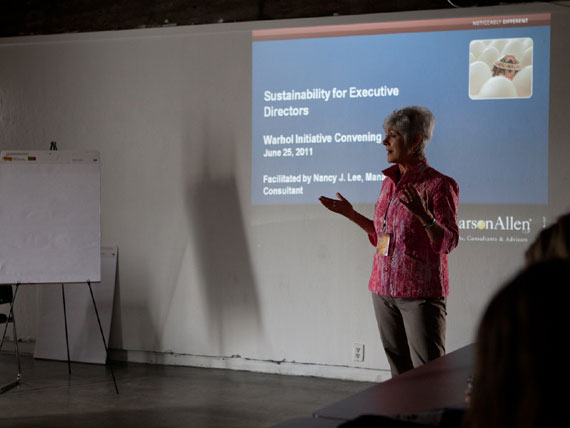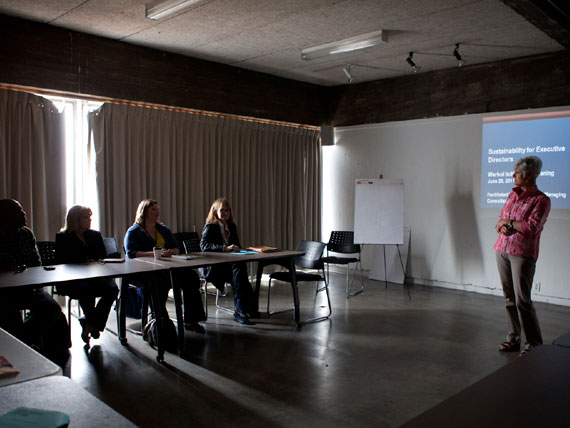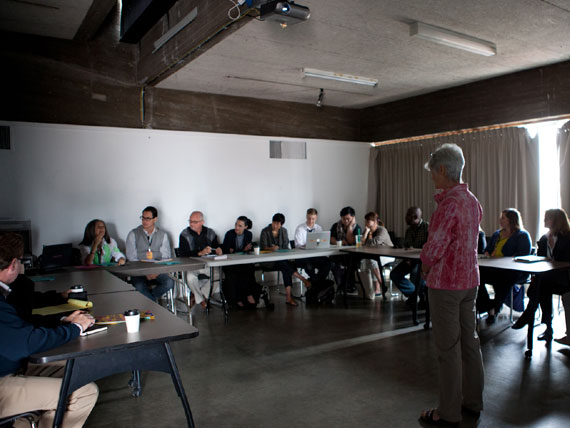 Executive directors, responsible for the overall effectiveness and viability of their organizations, often find it difficult to sustain their own passion, energy, health, and sanity. The challenges are unending: build and support the board, raise money, watch the bottom line, oversee staff, comply with rules and regulations…on top of developing and producing high quality programs and nurturing participation in them. What are some tools and practices EDs can use to work as effectively as possible and stay energized? How do the organization's overall health and external environment figure into the EDs search for personal sustainability? This will be a guided discussion with time for idea exchange. Come ready to learn with and from your peers.
Led by Nancy Lee, independent consultant, affiliated with LarsonAllen.
Much of the initial conversation centered on the relationship between the ED and the board, with many EDs noting that they spend more than 25% of their time on board relations. Lee suggested that attendants read Compass Point's recent study Daring to Lead.  While most found it difficult to manage their boards, a board member from Art in General observed that the board president should be responsible for managing the board and encouraged those present to reorganize the ED/board relationship based on clearly articulated responsibilities and regular evaluations.  To assist with this Art in General is willing to make their board manual an open source document: contact Sean Johnson, Board President, Art in General at sjdecor@aol.com.
Steve Vroom from 911 Arts said the conventional ED/board arrangement would not work for their organization and that their organization is modeled differently, more in keeping with an academic department with decisions based on consensus.  He expressed frustration at thinking about an arts organization as a business and measuring its success by a bottom line, noting that these larger arguments are more about power struggles than they are about the missions of the organizations.
Someone noted that the ED and the board are stewards for the community—"We are accountable for the organization, but it belongs to the community.  The more time that you spend on board issues, the less time you have for the organization, so the investment in board development and clear communication is critical."
On the subject of ED sustainability, Lee suggested the following:
Clarity of purpose and deeply held organizational beliefs: Know what you are trying to achieve. Define and focus on the future. Use core values to guide choices.
Allocate time positively
Add strength to the organization
Self-renewal
Strategies for ED Sustainability:
Delegation
Invest time to create a system to organize bookkeeping, communication, etc. Scott T. Schofield, ED from Out North noted that they use an internal blog to organize communication notes by tagging each enter with relevant subjects so that they can be sorted easily—this is a readily available system that is free and simple to organize.
Do fewer things better—say no rather than yes to things that will create additional work.
"Creative Integration" put research to work on program already in place.
"Promise management" check in with everyone down the line of command to be sure that the organization can support larger promises—this creates respect and power-sharing within the team.
Get over the nobility of the sacrifice—concede to being overwhelmed at times and take breaks when there are lulls, even if it means the middle of the work day.  Since this is a 24/7 business, sometimes the middle of the day in the middle of the week might be the right time to take a break from work.
Evaluate staff time allocation to determine the needs required of new staff.
Diverseworks shuts down in July (either two weeks off or 3 day work weeks) to renew and come back thinking more broadly in terms of last season and next season.  Another Chicago organization also shuts down in August—it is good time based on the heat of summer and it does not adversely affect the community. Someone else noted that respite is a benefit that you can offer staff to offset the low salaries of nonprofits.
Staff retreats
Allow for some short-term "wins."  One organization has a weekly $50 – 500 staff challenge of small projects that can be realized within the week, such as buying a new curtain for the office, to create a rewarding sense of completion and renewal.
Make time to socialize with friends who aren't art-related to get a break from the constant concerns of work.
Cathy Kimball at the SJICA negotiated for a four week sabbatical rather than a raise at her ten year mark, noting that it is important to be able to take a break.  If you can't take a break, there are larger issues.  Letting go periodically tests your interests and your passion.  Non-profits require love—you have to know that you love the work to do good work.
Engage everyone involved as a stakeholder—you let go of power, but you share responsibility.
Create an advisory committee (support group) from other members of the Warhol Initiative.
Notes on Board Management and Communication:
Get the right help—some found it better to solicit retirees as board members so they weren't competing with other full-time commitments.  Too much pressure is placed on the ED to organize the board when these responsibilities should fall to board president.  From one board president: "I don't manage the ED'staff, she doesn't manage my board."
Clear communication—email a specific request to individuals and follow up with a short conversation on the phone, rather than group emails with too much information.
Board retreats
One organization brings a guest artist to every board meeting to provide feedback and familiarize them with the board.
Invite potential board members to participate in a committee to test their interest/investment.  Also look to top donors because they have already "bought in."
Notes on Succession Planning:
One person suggested a two track succession plan—one for immediate change (your ED wins the lottery or gets hit by a bus) and one for long-term plans.  Keep clear records and documentation so that people don't have to reinvent the wheel.  SJICA keeps one document that details how to hand-off relationships.  Out North uses an internal blog.
One organization had board president ask ED who would be good replacement candidates if something changed overnight—this was perceived as less threatening to the ED.
SJICA has step-by-step succession plans written into their strategic plan, created with an outside consultant. It is more of a road map than a list of people, per se. SJICA is willing to make this document open source to help other organizations—contact Cathy Kimball at cathy@sjica.org.
Founding Director syndrome—best solution is to transition with an interim director, brought in on a finite timeline, to manage transitions.  Interims are able to ask harder questions and help clarify that the organization belongs to the community, not the founding director.
SUSTAINABILITY FOR EXECUTIVE DIRECTORS, SESSION II
During the second Sustainability for Executive Directors session, Nancy Lee presented the same PowerPoint presentation (posted below).  Many of the EDs indicated that they have dual role (e.g., artistic director, curator, communications, etc).  Lee indicated that EDs should hire additional personnel as soon their organizations can afford to.
In regards to time management, Lee advised that EDs should map out their time and determine how much time they are spending on various duties, which duties they would prefer to spend more time on, and which duties they excel at (which may be different from the duties that they enjoy).  EDs should examine how their desired time commitments match up with their actual time spent on various duties.
The discussion shifted to how to engage, empower, and activate the Board of Directors.  Dr. Joy Simmons, the Board Chair of Watts House Project, indicated that she took full charge of the the Board of Directors to alleviate the demands placed upon her ED.  Many participants felt that the Board needs to be assigned specific jobs and deadlines.  By holding the Board accountable to specific jobs, they could be accountable to themselves as a group, not just to the ED.  Some felt that at times it is better to create "needs" and "resources" lists than a committee.  Google docs can be used as a running task list.  Some EDs felt that they were burdened by having to constantly remind their Board members about meetings and duties.  In contrast, some thought that Board members were calling with seemingly trivial questions as a way of making contact and reaching out.  Some also thought that a higher concentration of corporate Board members made their boards more effective, as they create a culture of accountability and management.  Some academic training is available for board members.  While the subject was never directly addressed, there were some participants who saw being on a Board as "fun," while others viewed it as "work."
Many participants agreed that EDs must define their sacred time or time out and suffer from the nobility of sacrifice.  If you make yourself and the people that are working with you happy, everyone will become more productive.  Laurie Cumbo from MOCADA indicated that she to took a mini sabbatical and thought that this should be added to the ED field.  Cumbo indicated that it is never going to seem like a good a idea, as there are always deadlines and obligations that you must attend to.  But Cumbo indicated that if you tell people that you're going on sabbatical, they'll understand and your staff will rise to the occasion and fill in during your absence.
Full PowerPoint Presentation:
Sustainability for Executive Directors-LA