Exhibition as Experience: 10 Models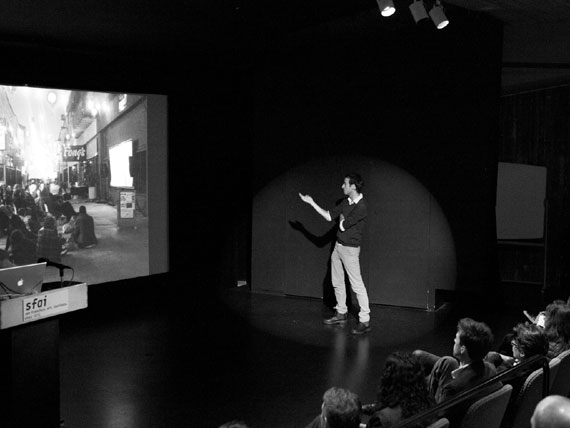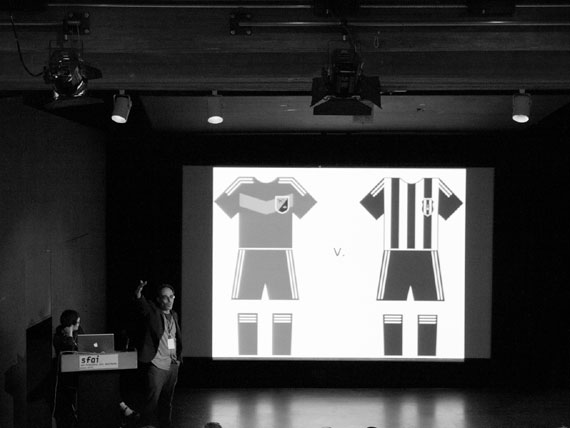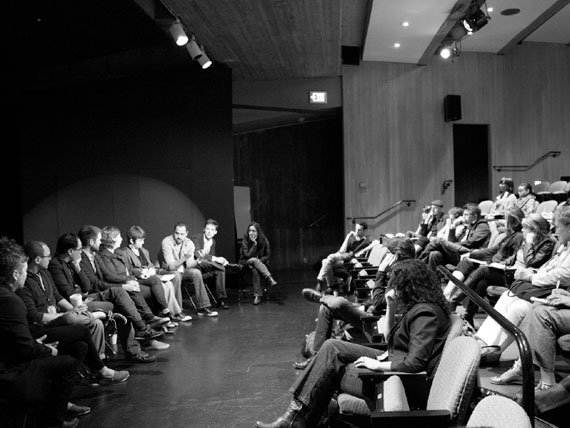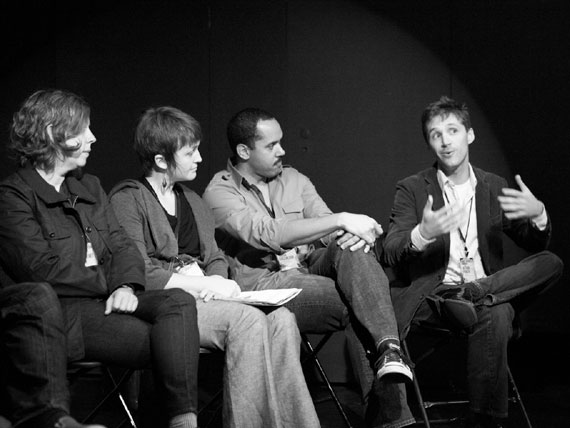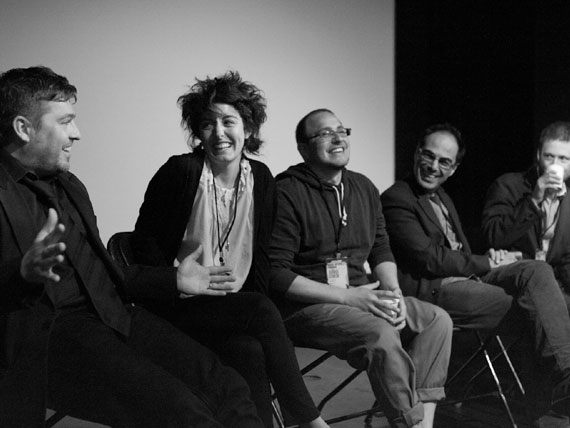 This panel focuses on the use of traditional and non-traditional exhibition spaces for the presentation of performative, experiential, social, or pedagogical art practices and events. Using the Pecha Kucha format, ten presenters will each speak for 6 minutes and 40 seconds on their approach to the topic.
Session presented by Mark Allen, Machine Project; Edgar Arceneaux, Watts House Project; Ashley Clemmer-Hoffman, Project Row Houses; Courtney Fink, Southern Exposure; Laurie Lazer, Luggage Store; Sina Najafi, Cabinet; Nathan Purath, Coleman Center for the Arts; George Scheer & Stephanie Sherman, Elsewhere; Nato Thompson, Creative Time; and Sean Dockray, Telic Arts Exchange.
The following are highlights from each presentation followed by notes from the discussion that emerged post-Pecha Kucha:
Machine Projects- Los Angeles, CA
Models that are not known to work yet. Event as container or gift for audience. Embrace failure and uncomfortableness as part of  the trajectory of exhibition. Felt making + circuits, tranimal makeovers, kimchi making station.
Watts House Projects – Los Angeles CA
Inspired by Simon Rodia, predominantly volunteer artists and architects work on longterm projects with residents to renovate existing housing and landscaping. It is a community collaboration partnering multiple art and community organizations. They seek to build equity by connecting the theoretical with the practical by allowing people to do what they do best.. Part of strategy os to tap into local resources and leverages- LACMA  partnered with the City of Los Angeles's Department of Cultural Affairs to help preserve the Watts Towers.  Goals of the project are to act as a catalyst for change seeking virtue and justice with reproducible and scaleable results.
Project Row Houses- Houston, TX
A campus of 40 buildings in Houston's 3rd Ward that includes twelve artist exhibition and/or residency spaces, seven houses for young mothers, artist residencies, office spaces, a community gallery, a park, low-income residential and commercial spaces. Past projects have created opportunities for entrepreneurship and gardening: "Tortilla  Oracle," exploring the role of food and spirituality and mysticism; "Social and Soul Of My Food," cooking competition; "Peace Though Pie."
Southern Exposure – San Francisco, CA
Acts as catalyst for more projects both in exhibition space and as events around the community. Projects: "Free Enterprise" was an artist residency at the storefront gallery with the goal of providing them with an opportunity to create and launch the framework for a business utilizing their creative skills, John Herschend and Will Rogan, "The Thing" quarterly a mail order art subscription project. Other projects include: Michael Swaine's blindfold walk around the neighborhood, a bicycle race based on style; "The Legendary Lions vs. the Fists of Fury", a dance-off competition between traditional Chinese lion dancers and Bruce Lee's larger than life sized fists; Chris Duncan's "the Sun", a participatory percussion event; "How to Homestead"; "Art Publishing Now," showcasing Bay Area art publishing.
Luggage Store – San Francisco, CA
Set in the Tenderloin District of San Francisco. "Tenderloin National Forest"- transformed trashed Cohen Alley into a park for performances and cultural events, with murals, trees, vegetables, herbs, flowers, a small " green" structure with a living roof, a staging area, seating, a clay oven, and upgraded lighting.
Coleman Center for the Arts– York, AL
"The Darkest Hour is Just Before Dawn," community members lent a lamp which was displayed in an abandoned retail space. Artist are deeply involved with the community and have participated at city council meetings. 75 students working with artist in residence, Garland Farwell, made sculptures reinterpreting the work of Alabama folk painter, Mose Toliver, which then culminated with a Parade. "Video and Sound Event: Community Collaboration," 3 Projections of trains, exploring York's history as a railroad town. "1 Mile Garden," a  teaching and learning garden, and community event space. "Outdoor Living Room."
Elsewhere Collaborative – Greensboro, NC
Elsewhere is a community space and artist residency in the general/army supply/thrift/ store of Sylvia Gray. It is a living museum, archeology, collection as puzzle, museum as medium. Curation – art as recreation, fractured market scripts.
Creative Time – NYC, NY
Is it art out in the world?
The more people know about art the less they get out of exhibitions.
Aim is not to point at the thing, be the thing, be in the world
Culture is hearts and minds, people as landscape
Everything is a war, a war with booze.
When thinking about producing public art, ask yourself are you secretly a cow on parade? (Reference to city-wide initiatives like those in Chicago wherein decorated cows or other objects are put out as public sculptures.)
Telic Arts Exchange – Los Angeles, CA
Lab for primatology ,"the Public School"(a school with no curriculum, people say what they want to learn and when enough people have expressed interest, the school finds a teacher), Basement Activities, Book swap.
"Berlin", In response to other galleries opening spaces in Berlin, Telic created a conceptual gallery space in Berlin for which it creates announcements, advertisements press releases. The Distributed Gallery is a video exhibition project made of televisions and video monitors in various semi-private locations around (but not limited to) Chinatown.
Cabinet Magazine
Compress time, make someone uncomfortable.
Bunk bed conversations, speed as discomfort. People reading aloud while running on treadmills.
Issue on Friendship, found sister city (Beşiktaş, Turkey) and challenged their team to a game football/soccer game.
"Fairs for Knowledge" was a project encouraging an informal, social, and open mode of learning by finding knowledge in unexpected places: a 2nd menu in a restaurant for conversations; six writers installed in booths at the Brooklyn Flea.
DISCUSSION
During the question and answer phase, Nato Thompson of Creative Time proposed TED as a model for how the arts can talk to the general public.  He also suggested that the arts should be the BBC, as such, the language that people speak.
Additionally, an audience member asked the organizations about projects that were unrealized because of logistics.  Sina Najafi from Cabinet indicated that they would like to do a  Gowanus Biennial, modeled after the Venice Biennial complete with Venetian made gondolas.  Courtney Fink from Southern Exposure indicated that they would like to do an "off-shores" project that took advantage of the Bay and the upcoming America's Cup.   Edgar Arceneaux of Watts House Project indicated that because they are addressing housing issues that may not be presently up to code or desire to make adjustments for which the property may not be zoned, a major logistical obstacle for them was zoning ordinances.  He proposed the establishment of "creative innovation zones," areas with greater zoning and code flexibility.  Arceneaux also suggested that perhaps their granting logic needs to shift from NEA to HUD or infrastructure grants.
The Food Movement was discussed. This is a language that people speak. Across the board many organizations are doing Food and Gardening projects. It was described as very relatable, "at once political and totally Bourgeois."
On the subject of community engagement, Arceneaux expressed his wish to have effect on policy, to liberate small social economies to be free of restrictions of liability. Volunteerism creates other kinds of meaningful exchanges. With economic downturn, there are not enough jobs and people still need to feel fulfilled.  Artists are 6th in the nation for income disparity, 30% a year leave field because they can't stay. Nathan Purath noted that in small towns, the artist has automatic outsider status. Sometimes the artist shouldn't be the one negotiating the community, The Queens Museum has a community organizer, who is a skilled negotiator.
The conversation then shifted to the language that organizations use with funders.  Fink thought that you don't have to explain to the funders what you are doing and that you can be honest that you don't know how successful the project will be.  Arceneaux indicated that greater truthfulness on your behalf would create more openness from funders.