May
25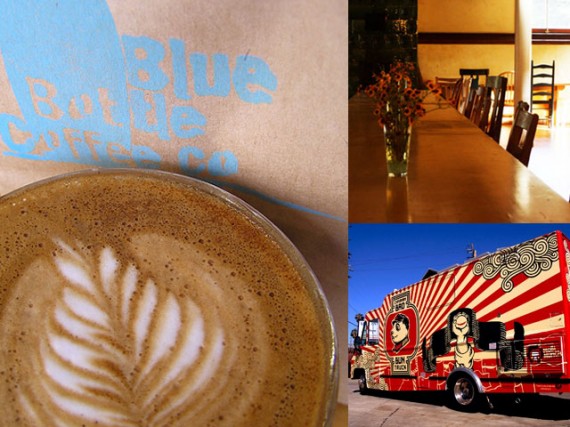 An essential part of any Convening is the time spent out-of-sessions, breaking bread together or having a drink with fellow attendees. To ensure that this time is productive as well as delicious, we've partnered with the following restaurateurs, food truck purveyors, coffee devotees, and artisans to prepare meals at the Convening.
The first night's dinner will be held at OSHA Thai, a successful chain of Thai restaurants founded by sisters, Wassana Korkhieola and Lalita Souksamlanel. The Embarcadero location is within walking distance to the hotel and comes fully prepared to host our opening Pecha Kucha session. The menu for this night includes passed hors d'oeuvres and wine at 7pm, followed by a four course dinner of Summer Salad with Tuna, Tom-Kha Soup, Pumpkin Curry, Grilled Sea Bass, and OSHA's house specialty, Volcanic Beef.
During the first day's activities at the Headlands, Katie Powers makes use of the Headlands Kitchen & Mess Hall, a relaxing and communal space designed by artist Ann Hamilton, to provide box lunches that can be enjoyed outside or in.  Three boxes are available:  The Free Range Box includes a chicken salad sandwich w/ tarragon, celery and apples on brick oven whole wheat, summer corn succotash, a short bread cookie, and fresh apricots; the Rodeo Box includes a sliced tri-tip and arugula sandwich with parley walnut pesto on rosemary bread, spicy Moroccan carrot salad, a double chocolate cookie, and fresh cherries; and the Veggie Box which will feature grilled and marinated eggplant and zucchini with roasted red pepper and goat cheese on olive bread, shaved fennel and pickled beet salad, and a chocolate almond bar with fresh berries.
After a brief break back at the hotel, our second dinner will be held Friday night the Regency Lodge, on Sutter and Van Ness. This former social hall with its vintage theatrical backdrops and enormous pipe organ will be the site for a project by artists and chefs, Julio César Morales and Max La Rivière-Hedrick. (More details about this event will be posted in a separate entry.)
The next day, at the San Francisco Art Institute, take in the sweeping views of Alcatraz and the Bay, while enjoying boxed lunches provided by Zella's Soulful Kitchen. Click here for a recent profile of Zella's owner and chef, Dionne Knox. We're thrilled to work with Dionne and thankful to La Cocina for connecting us to her and for their ongoing efforts to support independent businesses. Lunches that day will include a choice of roasted lemon and herb chicken or tofu kebobs, meyer lemon and couscous salad, spinach salad, and assorted gourmet cookies. We'll also have coffee set up to stave off that mid-afternoon slump.
Following the second full day of sessions, the group will head over to Southern Exposure for a casual closing night dinner and block party. There we'll hear from a selection of those of who have received regional regranting funds through SOEX's Alternative Exposure program and take in Allison Smith's installation, The Cries of San Francisco. Throughout the evening food is available from a variety of fine food trucks including, Chairman Bao Bun, Let's Be Frank, CurryUp Now, the Creme Brulee Cart, and Blue Bottle Coffee.
In general, each meal is being devised with a large amount of vegetarian options. If you have any extraordinary food allergies, let us know in advance and we'll plan accordingly.  While we might not be able to accommodate all requests at every event, please send any dietary restrictions to julie@warholfoundation.org.