Jun
07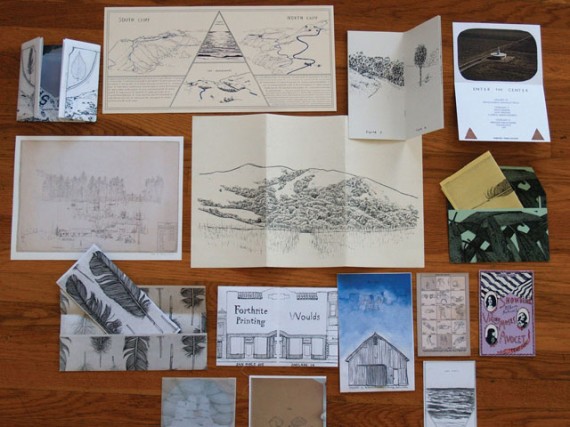 In 2007 Southern Exposure launched Alternative Exposure, the first iteration of a national, regional regranting program supported by the Foundation.  These grants have reached more than 70 non-incorporated organizations and artist collectives in the Bay Area. During our closing night dinner a select number of recent grantees will be on hand during to present their activities. Many thanks to the staff of Southern Exposure and the participating artists for putting this together.
Here is an advance look at some of the projects that have been designed for this event:
ALULA EDITIONS (2009 Alternative Exposure Grantee)
Alula Editions works with artists to create hand silkscreened textiles, which are then made into an edition of objects. Much like a CSA (community support agriculture), subscribers provide the funds needed to make the editions and receive artworks in return for their investment.
Alula will lead an interactive screen-printing demonstration inviting participants to print with discharge paste. This activity will be a fun and easy way to learn through hands-on participation about the process of removing color from dyed fabric to unveil a repeating pattern.
ART PRACTICAL (2009 Alternative Exposure Grantee)
Art Practical is an online magazine that enriches critical dialogue for the Bay Area visual arts by providing comprehensive analysis of events and exhibitions. Since its launch in October 2009, Art Practical has worked with a network of partners to promote the Bay Area's role in the international art scene, to create a historical record of contemporary artistic practices, and to foster artistic production through critical writing and public programming.
Art Practical is creating a fold-out poster that functions as a field guide to San Francisco. It will include descriptions of Art Practical contributors' favorite places in San Francisco, and a map noting their locations.
CRITTER (2009 Alternative Exposure Grantee)
CRITTER presents cultural events that focus on the way science is practiced in everyday life, taking form as talks, classes, demonstrations and workshops.
CRITTER will present an abridged version of Clone-Home, which is an informal plant cloning and cultural drop-in center. People can partake in the joys of making many plants from one with hands-on demonstrations and activities. Friends of CRITTER will guide the curious through several related projects, including phyto-photographic prints, tisane tastings, succulent quilt making, and sounds from the secret life of plants.
INVISIBLE CITY AUDIO TOURS (2010 Alternative Exposure Grantee)
Invisible City Audio Tours is a fiscally sponsored community-arts non-profit that introduces new ways of experiencing literature, art, and geography by producing alternative self-guided walking audio tours. Each tour leads participants through liminal neighborhoods and forgotten or unknown histories, creating heretofore unseen realities through original works of fiction, poetry, music, sound, and visual art.
Invisible City Audio Tours offers two listening stations for their tours Heliography and The Armada of Golden Dreams. The Heliography station includes a display of the "souvenirs" designed by twelve Bay Area artists for the tour's landmarks. The Armada station includes two 3×3 feet paintings by artist George Pfau, a container of edible gold coins designed by Rebecca Ebeling, and free maps of the route.
INVISIBLE VENUE (2008 Alternative Exposure Grantee)
Invisible Venue collaborates with artists to present art in unexpected settings.  It is a one-person organization, founded and directed by Christian L. Frock since 2005, that supports artist's ideas and explores alternative locations for the presentation of contemporary art, outside of conventional gallery and institutional settings.
Institutional Critique Flair Button (2011) by Charles Gute is a public art project in the form of a freely distributed button.  A deceptively simple object, the text democratizes art discourse while playfully suggesting the co-optation of critique through scripted marketing.  Originally presented as part of a series of conference badge interventions funded by an Alternative Exposure Grant at the College Art Association Conference (Chicago, 2010), this project will be distributed at Southern Exposure and on Invisible Venue's website.
KROWSWORK (2010 Alternative Exposure Grantee)
Krowswork is a video and photography gallery in Oakland, California, founded by director Jasmine Moorhead in December 2009.
The program at Southern Exposure will include a cross-section of video work being made currently in the Bay Area by both emerging and established artists. The program can be loosely characterized as process-oriented work that avoids narrative and instead seeks transcendence through elliptical, humorous, and often dark means. The vision of Krowswork is to promote the specific power of video to get into the cracks of things, to flow between and beyond, in contrast to other mediums that rely on physical form. This program reflects Bay Area video makers who are realizing and acting on this potential.
RIBBONS (2009 Alternative Exposure Grantee)
David Wilson/Ribbons uncovers spaces of surprising inspiration and draws together a wide net of collaborators to craft spirited experiences of place, performance, and participation.
Ribbons will share a collection of maps, invitations, books, and other ephemera from past explorations and gatherings.   The production and dissemination of this printed matter has been deeply supported by the Alternative Exposure grant.  Wilson has also cooked up a small journey for the Warhol Foundation friends: look for the map and share in a group walk to a secret, wooded courtyard to hear the song of thirty voices.
ROYAL NONESUCH (2009 Alternative Exposure Grantee)
Royal NoneSuch Gallery is an artist-run alternative art and event space located in Oakland, California. It is dedicated to creating community around art-based experiences that are thought provoking and conceptually rigorous, while also being accessible and fun.
Royal NoneSuch Gallery and artist Matthew Cella will present Balloon D'Art! Originally presented as part of 21 Projects x 21 Hours x 21 Days, a community-based event series at Royal NoneSuch Gallery, Balloon D'Art is a re-envisioned version of the classic carnival game complete with a taunting dart carny, exploding black balloons, and of course, bizarre prizes. Participants will be encouraged, chided, and then rewarded after just three attempts.
SIGHT SCHOOL (2009 Alternative Exposure Grantee)
Sight School is an artist-run storefront in Oakland, California, that began in November 2009 from a desire to create dialogue around new modes of living and being in the world in order to reveal connections between art and life.
Sight School is organizing a small curated show, which will be displayed on a tabletop. The exhibition will focus on the theme of community and sight, and will feature artists who have previously exhibited at Sight School.  Sight School publications and tote bags will also be available.
Image: Work by David Wilson/Ribbons.