Jun
01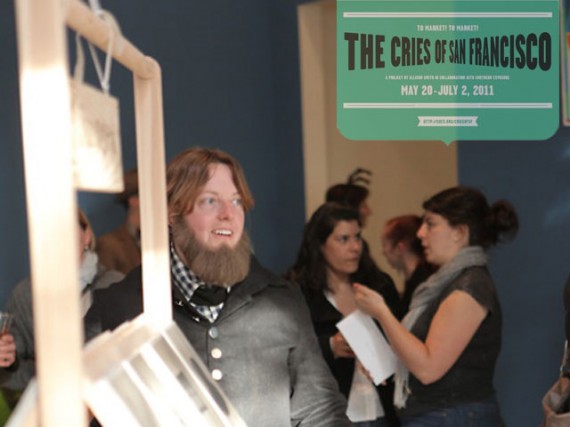 Southern Exposure, the site of our closing night dinner, recently launched a new project by artist Allison Smith entitled, The Cries of San Francisco. The installation will be up in the galleries, but if you plan on being in SF for an extended period of time, you may want to check out one of the numerous public events planned during the show's run.
The following is from the SOEX website, where you can also find out more about this project: "The Cries of San Francisco is a project by Allison Smith in collaboration with Southern Exposure that invokes the historic tradition of street peddlers hawking their wares with melodic songs and calls as a means of offering up social revelations on the temporal employments, habits, and callings of nearly 70 Bay Area artists, craftspeople, and other urban workers. The Cries of San Francisco takes the form of a public art event centered around Mint Plaza, a sculptural installation and a series of events at Southern Exposure and a publication chronicling the project.
Allison Smith presents a sculptural installation at Southern Exposure that serves as a public house and market hall where participants gather to perform and record their cries and to trade and peddle their wares to the public. The exhibition includes sculptures, works on paper, and ambient sound, creating a tangible stage-set for social interaction, dialogue, events, and market days."
Image: Allison Smith as the town crier, via SOEX.